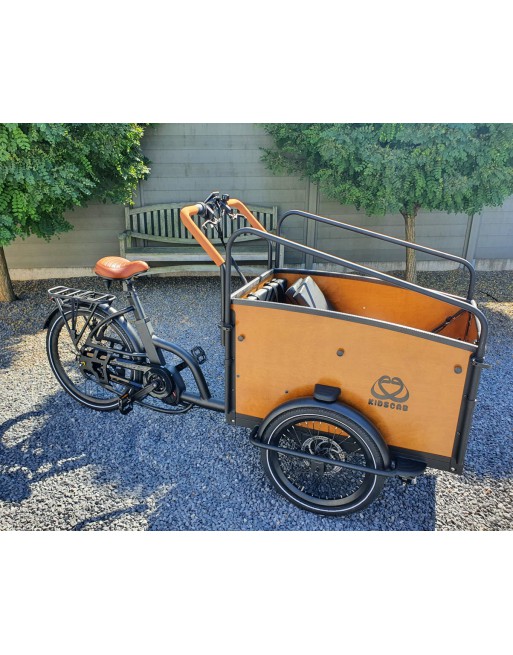  
KidsCab Cares 4 Super Combi cargo bike - Enviolo
The KidsCab Cares 4 Super Combi is the strongest electric cargo bike on the market with a torque of 120 Nm. With the front door you can easily transport dogs or let children step in.

Customer service quickly accessible via chat for all your questions

Free shipping from 150 EURO for parcel shipments

14 days to consider and return without questions

!! Attention!! High amounts for online shopping may be refused by your bank.
Therefore, choose 'Bank transfer' so that you can place your order without errors.
The KidsCab Cares 4 Super Combi is the latest addition to the KidsCab collection of cargo bikes.
The KidsCab Cares 4 Super Combi is the ideal dog cargo bike thanks to the door at the front. Or to let the children board easily. The cargo bike can be used for 2 or 4 children. The front bench seat can be easily removed for easy entry and exit. With the powerful Ananda M100 mid-engine with enormous power of 120Nm torque, every bike ride becomes a relief and in hilly landscapes nothing is too much and you will not be short of anything. The KidsCab Cares 4 Super Combi is the only cargo bike with the strongest engine you can find on the market.

The KidsCab Cares 4 Super Combi is equipped with Enviolo hub gears (which means that you can switch smoothly and without intermediate steps, even when you are standing still) to give you the right power and speed, both on the flat land and in hilly areas. The 2 mounted steering dampers under the box absorb steering shocks very well and it is a pleasure to cycle. The battery is hidden in a lockable storage compartment under the rear seat bench and is protected from rain and is easily removable for indoor charging. The battery can be charged both on and off the cargo bike. To make loading easier, a loading point was provided on the outside of the box.

To bring the cargo bike to a stop quickly and safely, Tektro hydraulic brakes are available, so that you can have a lot of braking power with little force. The KidsCab Cares 4 Super Combi comes with 2 thick cushion sets and a rain tent.
The KidsCab Cares 4 Super Combi has wide Schwalbe Big Ben plus tires with a high puncture resistance. These fat tires offer a lot of driving comfort. The sprung seat post also contributes to a pleasant bike ride for the cargo cyclist.

Lighting at the front and rear are powered by the battery and can be switched off and on via the LCD display.

The box has a baking edge at the top, so that the children cannot hurt themselves on the hard edges.


Specifications:


             Frame size 50cm

             2 benches for 4 children, etc. dog or groceries.

             Rain tent

             2 sets of seat cushions

             Frame Aluminium

             Frame color Black

             Sprung saddle

             Chain glider

             Ananda LCD Display

             Enviolo hub gear

             Hydraulic disc brakes front and rear

             Steering dampers

             Thick Schwalbe big ben plus tires with reflection

             Aluminum rims

             Tires rear 26″ Front: 24″

             LED lighting via the battery

             High quality handlebar tape

             Baking color Natural-Brown

             Rear carrier load: up to 25 kg

             Total length: 2.20m

             Total width 85cm

             Box size: 90 cm long x 60 cm wide x 49 cm high

             Own weight: 60 kg

             Max loading weight box 150Kg

             With Ananda center Electric motor 250W with 120Nm torque

             Walk assist

             Battery charger 2amp 42v 50/60hz

             Sanyo Battery 13 Amp 48V = 600Wh

             Charging time: approx. 5 hours

             Range: 70-90km

             2 Year Warranty !