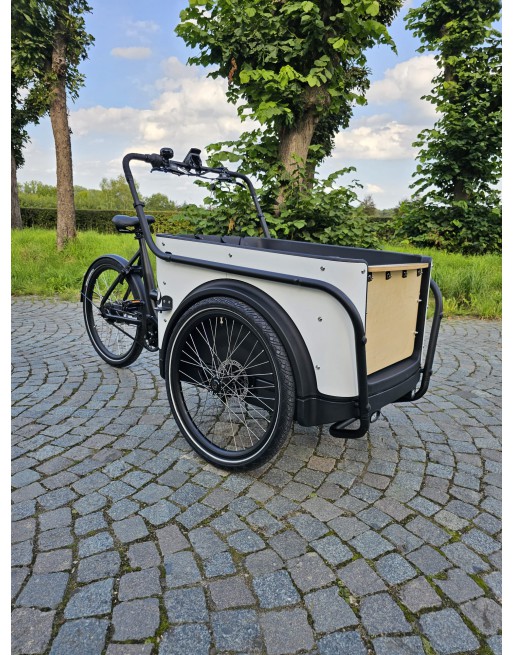  
KidsCab Royal Deluxe 3 Electric Cargo Bike
KidsCab Royal Deluxe electric cargo bike is the showpiece of the new KidsCab series. This cargo bike is equipped with a front door and has a belt drive with a super strong motor.

Customer service quickly accessible via chat for all your questions

Free shipping from 150 EURO for parcel shipments

14 days to consider and return without questions

!! Attention!! High amounts for online shopping may be refused by your bank.
Therefore, choose 'Bank transfer' so that you can place your order without errors.
Take advantage of a Back2School discount now and save as much as €1000!

The latest KidsCab Royal Deluxe 3 is a cargo bike of unparalleled luxury. With its sleek appearance and extraordinary specifications, this electric cargo bike stands out from all other models.

Thanks to its three large wheels, the KidsCab Royal Deluxe 3 offers exceptional stability and a pleasant cycling experience. The thick tires provide extra comfort while riding. The spacious bucket can accommodate four children and is made of soft materials, ensuring the children are always comfortable. The battery is located under the front bench seat in the bin.

A convenient feature of the KidsCab Royal Deluxe 3 is that it can be stored upright on the nose, taking up only 1 m² of space. This makes it ideal for people with limited space. With a width of only 80 cm, this cargo bike is also one of the narrowest three-wheeled cargo bikes on the market. The handlebars and saddle are adjustable in height for an optimal riding experience.

Thanks to the hydraulic brakes, the cargo bike offers a short braking distance regardless of weather conditions. In addition, the hubless enviolo gear allows the cyclist the freedom to choose between different speeds.

This cargo bike is equipped with a belt drive (carbon gates belt) instead of a chain, which means virtually no maintenance is required.

The Bafang middle motor with 80 Nm of torque always provides the right support, both on flat roads and in hilly terrain.

The display shows all important information, such as maximum speed, average speed, current speed, and so on.

A useful feature is the night sensor, which ensures that the lights turn on and off automatically. The lights are connected to the battery.

The Walkassist function gives you assistance when walking next to the cargo bike, for example, when pushing the bike up from an underground garage or on a slope.

With the 600Wh battery you can cycle about 70 km supported.


Specifications:


Frame: Aluminium

Capacity 4 children (4x seatbelt) or dog

Gears: Enviolo heavy duty Cargo gear system

Drive: Carbon Gates belt drive

Motor : Bafang mid-engine with 250Wh power - 80Nm torque

Display: Bafang DP-C18

Battery: 600Wh capacity

Range : 60 km - 90 km

Wheel size - front : 2x 24 inch with anti-puncture tyres

Wheel size - rear : 26 inch with anti-puncture tyres

Brakes: Front and rear hydraulic disc brakes

Frame - front : Powder coated steel

Frame - head : Powder coated aluminium

Container material : HDPE plastic container including bottom lid

Side plates Powder coated aluminium

Adjustable steering wheel

Adjustable saddle

Foldable front seat

Lighting: Integrated and connected to the battery

Cables Hidden in frame and box storage under the box

Possibility to park cargo bike on nose

Possibility to convert the front panel to a door

Dimensions:

Total length: 217 cm

Total width: 80 cm

Total weight : 60 kg

Maximum load (total) : 250 kg

Maximum load container : 100 kg