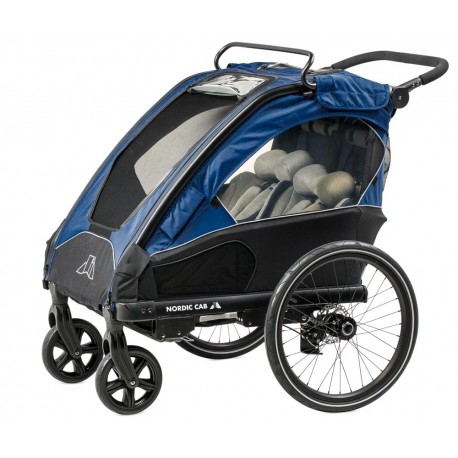  
Nordic Cab Urban bike trailer
Customer service quickly accessible via chat for all your questions

Free shipping from 150 EURO for parcel shipments

14 days to consider and return without questions
Urban 2in1 comes with everything you need to pull one or two children by bicycle or to be used as a stroller.
Urban is an exclusive multifunctional product designed for the children to be transported safely and comfortably in urban areas.

Main features:

Adjusting suspension system with fiberglass spring and TPR damper. The unique and patented suspension system make the Urban smooth and fun to ride.
Disc brakes on the rear wheels contributes to a comfortable and controlled braking.
Two separate and individually reclinable seats (from sleeping to uptight) is completely unique for the Urban.
This, together with 5-point seatbelt and the ergonomic padding give Urban the most comfortable, stable and flexible seat in the business.
Solid roll cage made of aluminum for exceptional security.

Internal:

100% PVC-free hood.
Two separate, reclinable and comfortable seats. One seat is a little larger than the other.
Good ventilation.
Large windows with UV protection and waterproof zippers.
Sun shades
Floor mat for collecting dirt and water. Can easily be removed for emptying and cleaning.
5-point safety harness for 2 children.
Storage space for small stroller wheels under the seats when the product is to be used as a bicycle trailer.
Storage pocket underneath for Jogger-Kit
Net storage pockets inside and outside.

External:

Adjusting suspension system.
Disc brakes with integrated parking brake.
Two small stroller wheels for extra stability.
Compact and easy merging of carriage. ? Vet ikke hva det betyr
Adjustable handle.
Integrated storage bag on the back and under.
Sun shades in front and on the sides.
The front consists of UV-protected window and mosquito net that can be rolled up and secured with rubber band. Choose from fully open front, mosquito net or window.
You can see your children from a top window on the canopy.
20 "rear wheels with aluminum rims.
LED light

Spesification:

For 1 or 2 children.
Weight without conversions 17.5 kg.
Shoulder width 29 cm.
Height from seat bottom to ceiling 58 cm.
Dimensions (W x L x H) 82 x 88 x 83 cm.
Folded (W x L x H) 63 x 88 x 34 cm.
Data sheet
Bicycle kit

Yes

Stroller kit

Yes

Jogging kit

No

Suspension

Yes

Number of seats

2

Frame

Aluminum

UV protective windows

Yes

Sun cover

Yes

Parking brake

Yes

Adjustable handlebar

Yes

Handbrake

Yes

Soil

PVC

Size dog

Medium

Load weight

50 kg

Foldable

Yes

Brakes front

Disc brakes

Weight

17,5 kg