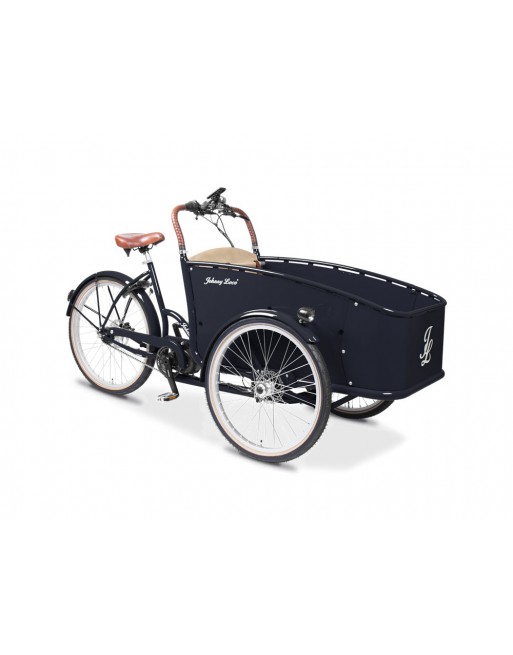  
Johnny Loco E-Bike Cargo Dutch Delight child transport trike 2020
Johnny Loco cargo bikes have a retro look with excellent features. This electric child cargo trike can accommodate 2 or 4 children and is equipped with every comfort.
Customer service quickly accessible via chat for all your questions

Free shipping from 150 EURO for parcel shipments

14 days to consider and return without questions
New 2020 model with disc brakes and integrated front and rear lighting.
This Cargo e-bike sets the new standard in cargo bikes with pedal assistance. This graphite black Dutch Delight by Johnny Loco brings together all the good that the Netherlands stands for. High quality, reliability, Dutch design and a smooth stride make it a pleasure to go out with this cargo bike. With this Cargo Dutch Delight e-bike with aluminum box you can easily transport 4 small children or heavy goods safely and in style.


Frame height: 53 cm
Frame material: Steel with powder coating
Inside leg size: 76 cm minimum
Bucket: lightweight aluminum with powder coating (109 x 62 cm)
Weight: 42 kg
Turning circle: 455 cm
Gears: 7 hub gears with roller brake (Shimano Nexus)
Saddle: Extra wide saddle with double suspension
Brakes: Disc brakes on both front wheels and rear roller brake
Handlebar: Adjustable in height
Grips: plastic handlebar tape with grip shift
Rims: Double-walled aluminum
Rim size: 26 "at the rear and 24" at the front
Tires: Smooth running with puncture protection and reflection (Kenda cruiser)
Tire color: Cream
Slot: 2 Star ART approved
Chain guard: Half closed
Motor: 500 watts below the bottom bracket, works over gears
Battery: 11 Ah lithium ion
Range: 60 to 100 km, depending on use