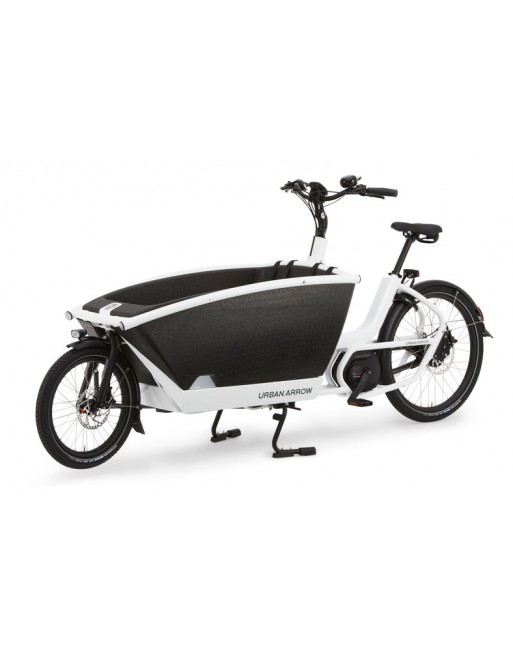  
Urban Arrow Family Performance Plus - White
The Urban Arrow Family performance Plus is equipped with a 500Wh battery, a carbon belt drive, hydraulic disc brakes and 65 Nm of torque.

Customer service quickly accessible via chat for all your questions

Free shipping from 150 EURO for parcel shipments

14 days to consider and return without questions

!! Attention!! High amounts for online shopping may be refused by your bank.
Therefore, choose 'Bank transfer' so that you can place your order without errors.
Urban Arrow Family Performance Plus


The range of 100 km is of course always subject to various factors such as the load of the bike, the terrain that is ridden and the weather conditions. The electric support is easily turned on and off by a button on the handlebar. There you can see exactly how full the battery is and you can choose from three modes: low, medium and high. The battery is located under the standard bench and by folding the bench you can easily slide the battery in and out. Charging the battery takes about 4-5 hours. There are all kinds of separate parts to order, such as an extra adapter so that the battery can be charged in 2 places, for example at home and at work. An extra battery can also be ordered.

We almost forgot the cargo bike itself. This is exactly the same as the version without electrical support. The body is made of super light industrial styrofoam called EPP. This EPP is pressed under high pressure and often used in car dashboards and motorcycle helmets. This Urban Arrow electric version weighs 45 pounds and has a NuVinci gear system. This means that you have an infinitely variable gear, so no more switching between 1 and 8, but can completely determine which mode you find comfortable. This Urban Arrow has a Gates Carbon Drive belt. This makes this cargo bike quieter, more durable and maintenance friendly. They have been extensively tested for E-Bikes and work best, even when cycling at a higher speed.

The cargo bike is available in 2 colors: black or white. The bike is equipped with a hub dynamo and a bench for 2 children and therefore also with 2 three-point belts. The Urban Arrow bakfiets can be expanded with various accessories, the rain tent is really a luxury solution against cold, wind and rain. You can also order a second bench, which allows 4 children to go along in the bin.

Also very handy is the Maxi Cosi carrier, which makes it easy and safe to take a Maxi Cosi. Besides this carrier, 2 more children can sit on the bench with ease. In that respect the Urban Arrow is comparable to the cargo long versions of most competitors.


SPECIFICATIONS


    Family | Bosch Performance | 500Wh | Deore

    Frame (rear) UA4.2, aluminum

    Motor Bosch Performance Line Gen 3, 250W

    Battery Bosch 500Wh

    Display Bosch Kiox

    Rear hub & gears Enviolo Cargo, 36H

    Enviolo TR gearbox - Trekking

    Drive train Gates Carbon Belt

    Rear brake Shimano Deore M6000 (caliper); RT-66 203mm (disc); Elvedes metal pads 6894S

    Front brake Shimano Deore M6000 (claw); RT-66 180mm (disc); Elvedes metal pads 6894S

    Rear light Spanninga Plateo XE 6V-36V

    Front light Spanninga Axendo 40

    Front fork UA rigid front fork

    Handlebar UA Family handlebar & handlebar holder 2020

    Handlebar stem TranzX JD-ST17-2 black 1-1/8 25.4 110mm

    Handlebar Ergotec Moon cruiser 25,4 black

    Grips Ergon GC10

    Pedals C558

    Saddle tube Satori Trident 31.6 400mm black

    Saddle Selle Royal Rio Plus

    Pedal arm Lasco EB05 BNI 170mm

    Rear wheel rim Ryde Andra 40 double wall 26" x 1.75; Sapim spokes (13G)

    Front wheel rim Ryde Andra 40 double wall 20" x 1.75; Sapim spokes (14G)

    Front hub Shimano HB-M525A, 36H

    Rear tire Schwalbe Big Ben Plus 55-559

    Front tire Schwalbe Big Ben Plus 55-406

    Valve type Schrader

    Rear fender SKS 65mm 26" matt black

    Front fender SKS 65mm 20" matt black

    Frame color Black or White

    Weight bicycle 51Kg

    Overall dimensions L 260cm x W 70cm x H 110cm

    Max total weight 275Kg Bike + rider + load