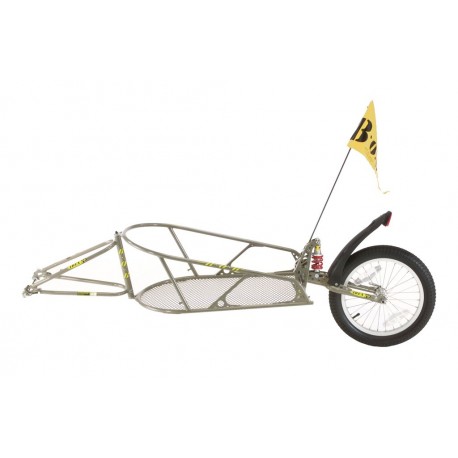  
Bob Ibex 26 inch without dry bag
The BOB IBEX is a bicycle trailer for you if you go mountain biking or off-road driving. The Bob Ibex is specially designed for trail riding and has a suspension system that remains stable behind your bike or mountain bike on off-road roads.

Customer service quickly accessible via chat for all your questions

Free shipping from 150 EURO for parcel shipments

14 days to consider and return without questions

!! Attention!! High amounts for online shopping may be refused by your bank.
Therefore, choose 'Bank transfer' so that you can place your order without errors.
Take the roads less traveled with the Ibex's 3" of adjustable-suspension. Ride single-track and washboard roads with up to 70lbs. of gear. The Ibex is also great for city use as well dampening curbs and potholes on the road.

We offer many options for the BOB Ibex trailer. A typical setup is the BOB standard length fork, the standard spacing BOB quick release and a BOB DrySAK.

Choose the 28 Fork model for use with 700c wheels with fenders as well as 29er mountain bikes. We highly recommend including the BOB DrySAK with your order. For bike touring or around town the BOB DrySAK is a great dry bag for keeping all of your gear dry. Made from durable and waterproof vinyl-coated PVC, the bag offers 5600 cu. in. capacity.
Available in Tan
3" adjustable-suspension
Tough chromoly frame
6 different attachment options to create compatibility for most any bike
Includes safety items: trailer flag, trailer fender, and trailer fender reflector
Works great with the BOB DrySAK (sold separately as an accessory item)
Wheels: 16"
Trailer Weight: 17 lbs.
Overall Length: 58"
Cargo Area (LxWxH): 25" x 16" x 18"
Capacity: 70 lbs.